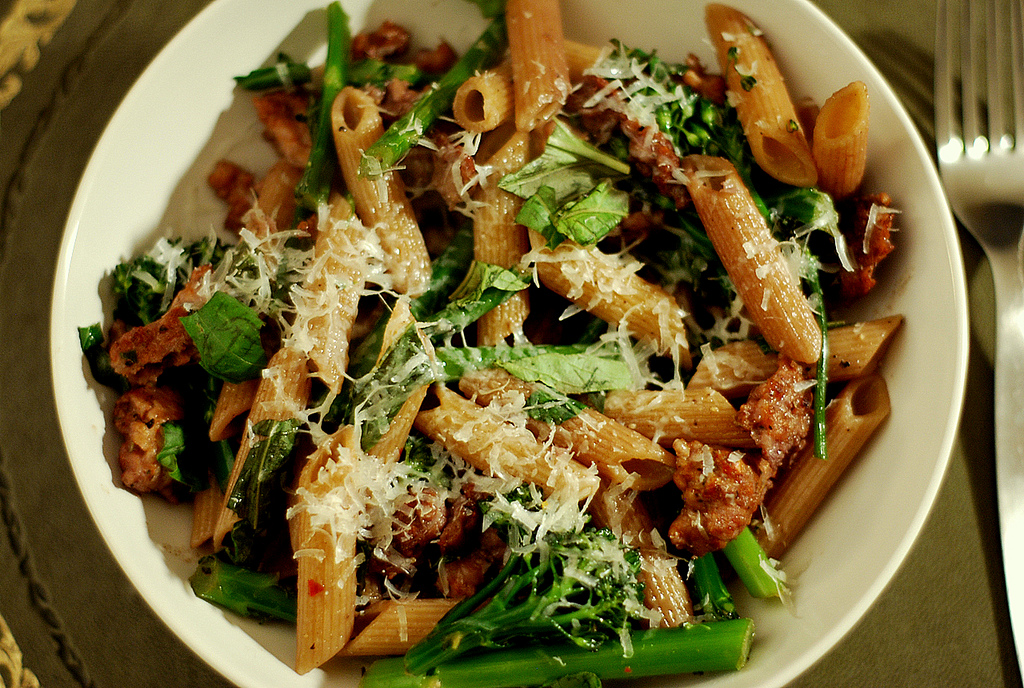 Shamefully, I don't enjoy drinking alone.  This means that I often end up with half-full wine bottles sitting on my counter at the end of the night pleading for me not to empty their contents down the drain. If there's room, I'll freeze the wine in ice cube trays. And then forget about them, of course. Jeremy's quick sausage pasta jogged my memory. Veg, cheese and supper is done.  Wine is a key ingredient to many meat-based pasta sauces, and leftover sips should always be considered for such uses. Some might argue that you should drink the wine instead, but at least in this case, pasta tipsiness is just as good.
Dining Companion: The Killing
Sausage and Broccolini Pasta
Serves 1.
Pasta for 1 (~100 g)
Half a bunch of broccolini, chopped
1/3 cup of red wine
1 Italian sausage link (sweet or hot; pork, chicken or turkey)
olive oil
1 clove of garlic, minced
pinch (or more) of dried chilis
Grated parmigianno or pecorino cheese
Salt and pepper
Handful of torn fresh basil
Heat a non-stick pan over medium. Swirl about a teaspoon or so of olive oil in pan.  When oil is hot, remove casing from sausage, add to pan and break up into small pieces with the back of a wooden spoon.  Cook and stir until sausage is no longer pink.  Drain fat, leaving about a teaspoon.  Add garlic and chilis to pan and cook until fragrant. Add wine, reduce heat to medium low and stir to pick up any brown bits from pan. Continue to simmer until wine is reduced by about half. Remove from heat if pasta is not yet ready.
Meanwhile, cook pasta in salted water until al dente. Add broccolini during the last minute or so of cooking. Drain, reserving about 1/4 cup of pasta water.  Add pasta and broccolini to pan and return to medium heat. Stir until pasta is well coated and slowly add the pasta water until a light sauce has come together. Add basil. Season with salt and pepper and add cheese once plated.