Oatmeal chocolate-chip cookie butter cookies
by
cream
on
Oct 10, 2013
•
6:23 am
No Comments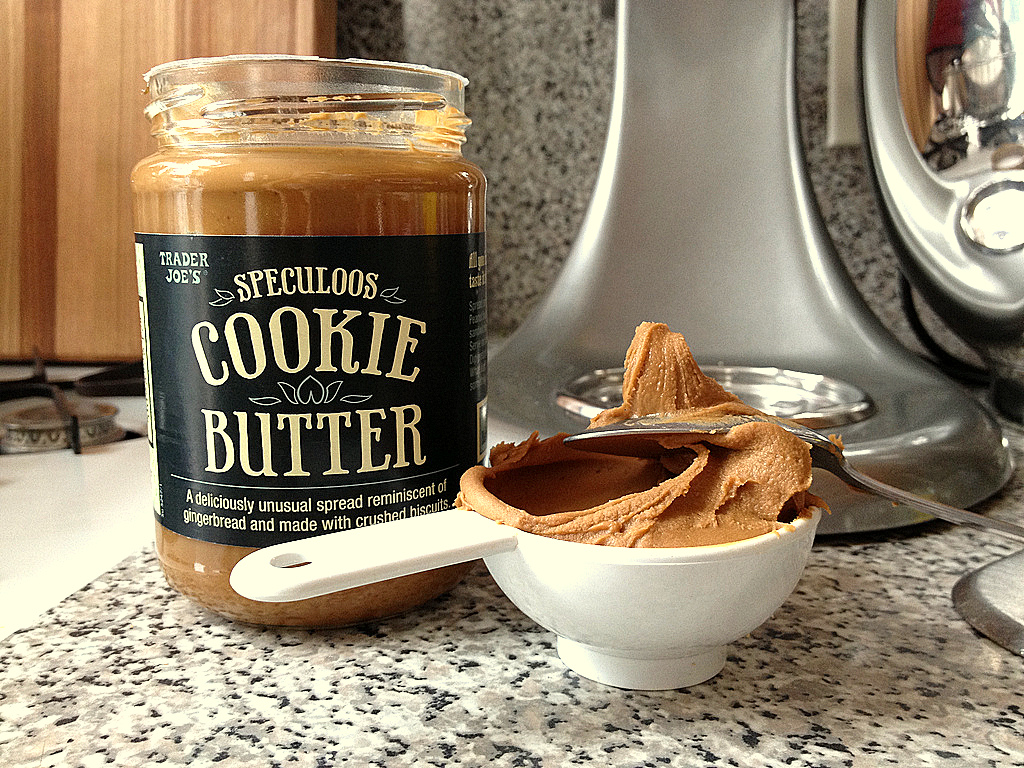 I think we can safely say that baking weather has begun. Maybe some of you in cooler climates or some of you with central A/C can bake year round, but this apartment dweller in hot and sweaty New York cannot. Pretty much from May until October, the warmth from making toast is the only heat I let my kitchen generate beyond that which comes from Mother Nature. But now as my pasty white legs get covered for the next six months and hibernation mode sets in, it is time to turn on the oven and add a little winter padding to my frame.
The lack of blogging has been half laziness and half lack of material. I cook and bake a lot less here for a lot of different reasons: space, culture, time, money, people. I know that I also forget to tell you about meals out. They're happening still, and they're enjoyable, so don't worry about me only eating oatmeal and toast every night. This might be the first and last post for a while, but it's a good one. Because it involves cookie butter.
Do you have a jar in your cupboard yet? I bought my first at Trader Joe's last year and have not bought another since because I fear I might eat it all in one sitting. (The reason I never have ice cream in the freezer.) Biscoff/Speculoos cookie butter is a spread made of crushed up Biscoff/Speculoos cookies. Yes, crushed up cookies. Kind of a gingerbread, gingersnap, and oatmeal cookie mash-up. The best possible cookie mash-up. I think you're supposed to put it on bread or use it for a fruit dip, but I can't really see a better use than on a spoon and then in my mouth. But, as I've vowed not to engage in such behaviour, I went looking for recipes that employed it. I found a little doozy that is like the best oatmeal chocolate chip cookie you've ever had. The cookie butter enhances all of that classic's best qualities and doesn't take it over. This isn't a recipe to make you bonkers for cookie butter. Like I said, that recipe only requires a spoon and open jar. This is to have everyone ask you for the recipe because they can't quite figure out why your oatmeal chocolate chip cookies are the best.
Happy fall. Get baking.
P.s. Another way to use cookie butter? A couple of tablespoons whisked into heavy cream and then whipped. It's Canadian Thanksgiving this weekend. I just told you how to top your pumpkin pie and have everyone fall in love with you.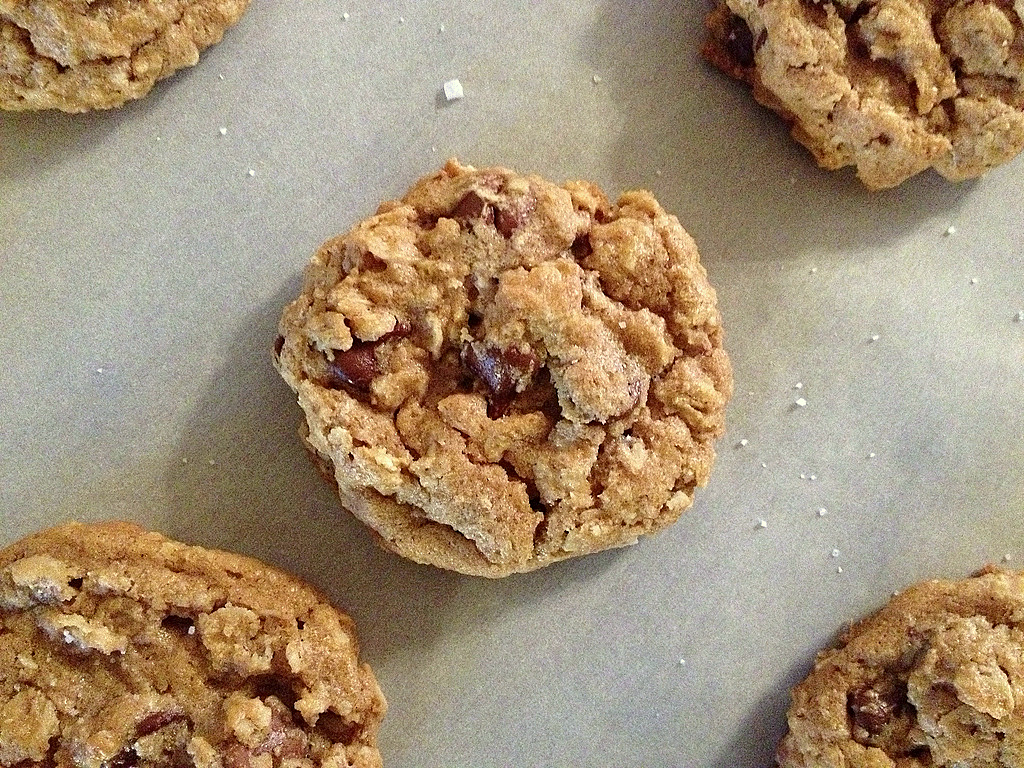 Oatmeal chocolate-chip cookie butter cookies
Adapted from Two Peas and Their Pod
1 1/2 cups old fashioned oats
1/2 cup plus two tablespoons all-purpose flour
1/2 teaspoon baking soda
1 teaspoon ground cinnamon
1/8 teaspoon salt
1/2 cup butter
1/2 cup Biscoff/Speculoos spread (cookie butter)
1/2 cup granulated sugar
1/2 cup light brown sugar
1 large egg
1/2 teaspoon vanilla extract
2/3 cup chocolate chips (I used a mix of milk and semi-sweet.)
Fleur de sel (Because I rarely top a cookie these days without it.)
Preheat the oven to 350 degrees F. Line a baking sheet with parchment paper or a silicone mat.
In a medium bowl, whisk together the oats, flour, baking soda, cinnamon, and salt. Set aside.
In the bowl of a stand mixer, add the butter, cookie butter spread, sugar, and brown sugar and beat on medium speed until smooth and creamy, about 2 minutes. Add the egg and vanilla extra and beat until smooth, ideally around 5 minutes. (Or beat well by hand if you don't have a stand mixer.)
Reduce the mixer speed to low and slowly add the dry ingredients and chocolate chips, beating only until blended. Chill the dough for at least 30 minutes in the refrigerator – the longer the better. I usually do overnight. Let the dough warm up about 15 minutes before scooping (you need to preheat the oven anyway). You can also pre-scoop your cookies to avoid the hassles of too-cold dough the next day. All you have to do is scoop onto a parchment-lined plate (the balls can be close together) and cover with plastic wrap. I also pre-scoop and freeze dough balls. Just put the plate into the freezer until the dough balls are firm, then place in a freezer-safe bag or container.
Form the cookie dough into rounded tablespoons and place them 2 inches apart on the baking sheet. (Or place chilled or frozen dough balls on sheet.) Bake for 7-9 minutes or until cookies are *just* golden and firm around the edges. Bake an extra minute or two if your cookies came out of the freezer. Pull out of oven and sprinkle cookies immediately with fleur de sel. Let the cookies cool on the baking sheet for 5 minutes and then remove with a spatula onto a cooling rack.