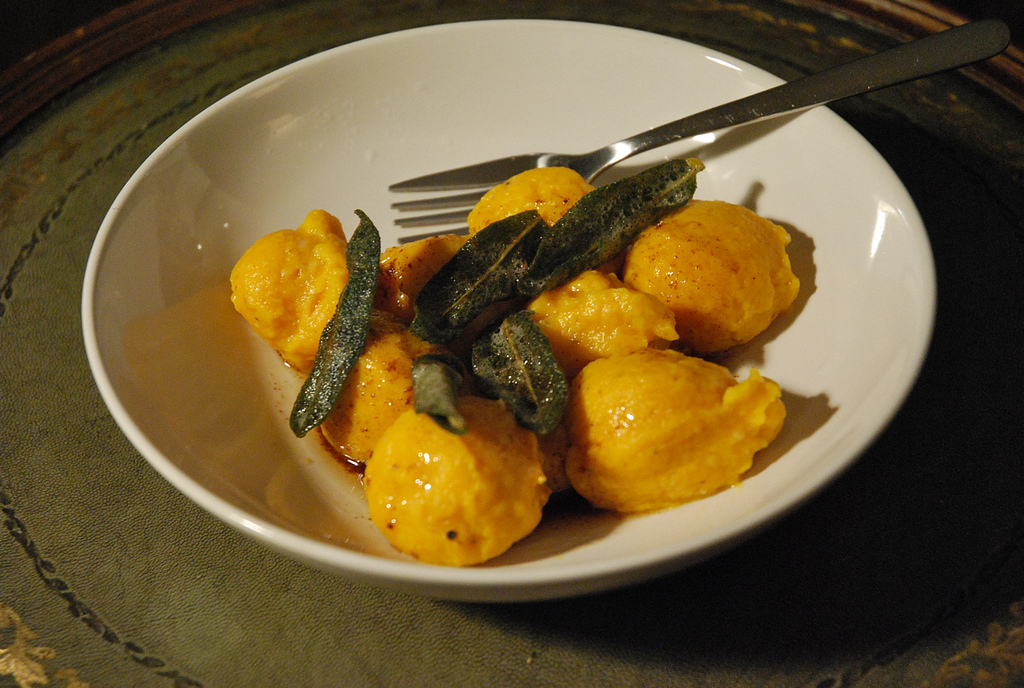 What to do with leftover squash besides make a soup? That was my predicament. Sure, a butternut soup would be good. Add some crusty bread and a green salad, and you'd have a meal worthy of guests. I should say, a healthy meal worth of guests.
But I would not be having any guests, and I would not be worried about being  healthy. This was the height of a post-Christmas hibernation-staycation, where you don't get up before noon,  comfy clothes made of cotton are the uniform, and a nightly ritual of catching up on Downton Abbey is the most important act of the day. Healthy was for January 1. So, my predicament really was, what to do with leftover squash to make it less healthy? The grilled cheese was one way, how about dumplings soaked in brown butter for the next? Done.
I know sage is all the rage (or was all the rage?) but if you haven't had crispy sage, try it. You'll want it as a topping on everything. The same goes for brown butter. Don't be afraid if you're a newbie at making it. It makes your kitchen smell like shortbread. Add little salty clouds of squash heaven and you've got the perfect winter plate of comfort. You could add a green salad and some crusty bread and then invite some guests, but you should probably change out of the comfy clothes before you do so.
Butternut Squash Gnudi with Brown Butter and Crispy Sage
Adapted from Mark Bittman
Serves 3.

I just copied what I learned from Mark last year and substituted squash. The one thing I did though was drain my mashed squash. Squash has a lot of moisture, so to get the needed consistency for this dough, you'd likely end up using a lot of flour. This could leave you with leaden little clouds. If you have the time, drain your squash in some cheesecloth over a bowl in the fridge for a few hours. You won't get a ton of liquid out, but it will help with keeping the gnudi light.
Oh, and I'm calling them gnudi this year. I don't think Mark is necessarily wrong in calling the ricotta version gnocchi, but my reading and research has lead me to believe that these dumplings are like naked ravioli, gnudi. That is, ravioli filling without the pasta shell. Gnudi, gnocchi, delicious all the same.
Salt
2 cups cooked, mashed squash, preferably drained of excess moisture
2 eggs, lightly beaten
1 1/4 cups freshly grated parmesan, plus more for serving
Freshly ground black pepper
3/4 to 1 cup flour
3 tablespoons unsalted butter
10 or more sage leaves
Bring a large pot of water to a boil and salt it. Combine the squash, eggs and Parmesan in a large bowl, along with some salt and pepper. Add about 1/2 cup flour and stir; add more flour until the mixture forms a very sticky dough. Scoop up a spoonful of dough and boil it to make sure it will hold its shape; if it does not, stir in a bit more flour.
Put the butter in a large skillet over medium heat. When it melts and turns a nutty brown color, add the sage. While it fries, drop the squash mixture by the rounded tablespoon (a cookie scoop comes in handy here) into the boiling water, watching not to overload the pot.
When the gnudi rise to the surface, remove with a slotted spoon and transfer to the skillet. When all the gnudi are done, toss, taste and adjust the seasoning, and serve immediately.