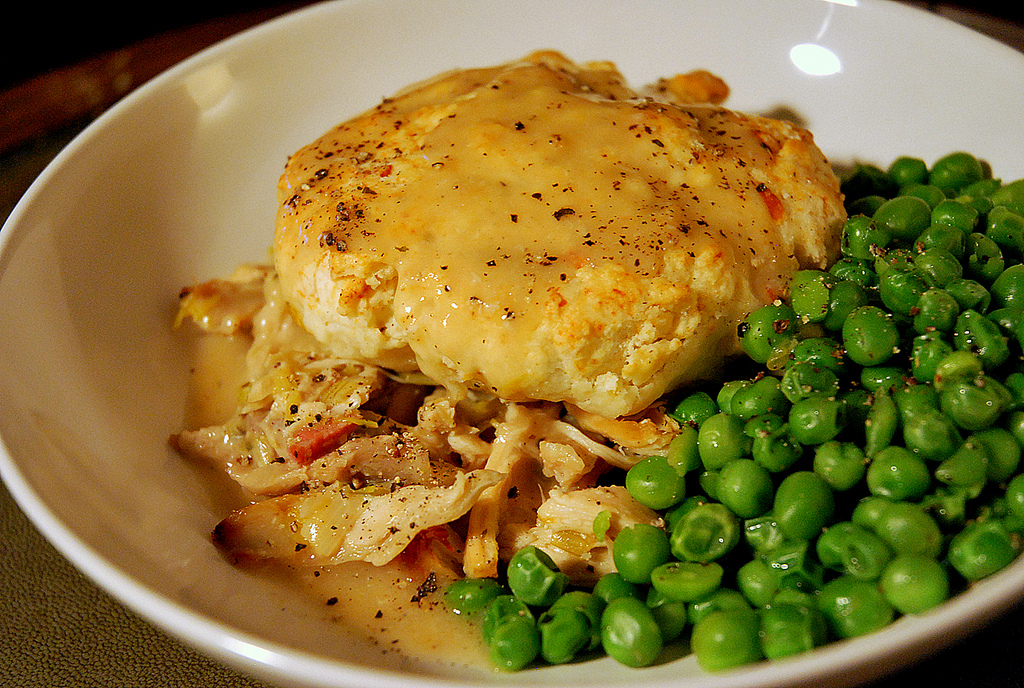 I know that this is one horribly overdue post. I mean, this dinner was from my Christmas holidays. I'm sorry.  It's just that every time I thought about this meal, I got really hungry.  You see, this was the best of my chicken leftover dinners.  By a long shot.  I was the cliche of  "I can't believe I actually pulled off something so delicious!" I even agreed with the recipe's creator that it WAS an easy recipe.
Shortly before Christmas, I had watched one of Jamie Oliver's many holiday specials.  This particular episode had a recipe for using your leftover turkey in a pot pie with leeks and puff pastry. I had the leftover poultry, but for this to be a solo supper, I wasn't going to make an entire pie and then eat it that way for the next five nights (the bane of single dining, in my opinion).  What I could do, and what you can see I did do, was make an individual pot pie by topping my filling with a biscuit. I love puff pastry.  I love biscuits more.  The end.
Dining companion:  Misfits (Have you watched this yet? You must!  You really really must.)
Chicken and Leek Pot Pie
Serves 1.
Filling
Adapted from Jamie Oliver
1 slice of 1/4-inch thick pancetta, chopped
1/4 teaspoon dried thyme
3/4 cup pulled/shredded cooked chicken
~1 teaspoon olive oil
~1 teaspoon butter
2 leeks, white part finely chopped
1/2 tablespoon flour
1/2 cup chicken stock
1/2 tablespoon cream
Preheat your oven to 375 degrees. Put your pancetta in a pan over medium heat and add thyme. Add olive oil and butter and let it saute for a few minutes. Add the leeks and saute them for about 3 minutes. Add a pinch of salt and pepper then cover, turn the heat down to low and let them cook for 15-20 minutes, stirring every 5 to 10 minutes to make sure they don't stick.
When your leeks are soft, add the chicken and stir. Add the flour, mix it in well and then pour in stock and stir again. Add the cream, then turn the heat up to high and bring everything to a boil. Season more to taste.  Turn the heat off. Pour the mixture through a sieve over a bowl to catch the gravy.
Biscuit top
Adapted from Canadian Living

6 tablespoons flour
1/2 teaspoon baking powder
1/8 teaspoon salt
2 tablespoons grated cheese, something flavourful like an aged cheddar or pecorino romano
1 tablespoon + 1 teaspoon cold butter, cubed
2 1/2 tablespoons milk
Mix together flour, baking powder, cheese and salt ; cut in butter with your fingers until crumbly and the butter is the size of peas. Drizzle in milk and mix with hands until a soft sticky dough forms. Turn out onto a floured surface. Knead 10 times or until smooth.
Place chicken filling into a buttered individual gratin or large ramekin. Pat biscuit to fit on top.
Bake on rimmed baking sheet in preheated oven until biscuits are golden and no longer doughy on bottom, will depend on size of biscuit but around 20 minutes. Keep watch.
Unmold/remove pie from dish and pour reheated gravy over top.