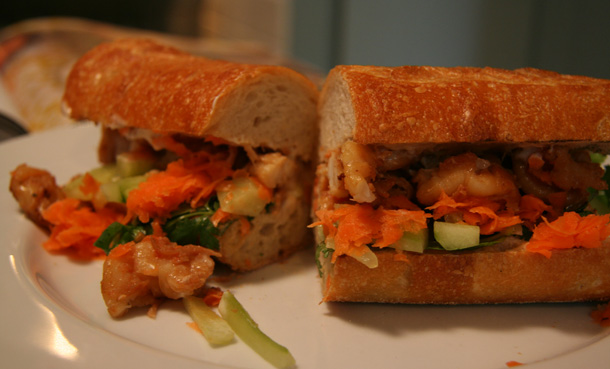 Okay, let's get the disclaimer out of the way. I know she's easy to hate. That her new cookbook, My Father's Daughter, has been the butt of a joke or two. The famed foodie mash up twitter star Ruth Bourdain wrote "I just got Gwyneth Paltrow's new cookbook, and I have to say it's very illuminating. That's because I set it on fire."
Hold the matches. I received Miss Paltrow's cookbook as a Mother's Day gift from my sister-in-love. I'm not a GP hater, in fact I must confess that I like her, and her blog, and her big appetite, and her ability to speak Spanish so beautifully. And I wouldn't say no to raiding her closet. AND I like her recipes. I've made my way through a couple now, all with great results. This Vietnamese prawn sandwich has been my favourite so far. One that I will make again. And again. Crusty grilled baquette, prawns, cilantro, basil, and pickled carrot. Fresh. Delicious. I think even the haters would like it.
Vietnamese Prawn Sandwiches
(from Gwyneth Paltrow's My Father's Daughter)
Ingredients
1 lb large shrimp, shelled and deveined
2 tbsp soy sauce
1½ tbsp canola oil
½ tbsp toasted sesame seeds, ground
1 tsp peeled and finely chopped ginger
1 large carrot, peeled and coarsely grated
½ tsp coarse salt
½ tsp granulated sugar
¼ cup unseasoned rice vinegar
½ cup mayonnaise
Sriracha to taste
juice of one lime
1 baguette
½ English cucumber, peeled, and cut into matchsticks
handful fresh cilantro
handful fresh basil
Directions
1. Put the shrimp in a small bowl and toss with soy sauce, oil, sesame seeds and ginger. Cover and set aside in the fridge to marinate for an hour. Meanwhile, soak 8 bamboo skewers in water.
2. Combine carrots and vinegar in another bowl, cover and set aside for an hour. In a third bowl, combine mayonnaise and sriracha and lime juice. Cover and set aside for an hour.
3. Fire up the bbq. While it's heating, thread shrimp onto skewers. Grill for about 2 minutes a side, or until pink and no longer translucent.
4. Grill the baguette. Assemble sandwich layering carrots, cucumber, herbs, sriracha mayonnaise and prawns.
Enjoy with a side of Cee Lo Green in a turkey costume. Wink.