If I lived in Bon Temps, you would call me a fangbanger.
Ever since watching The Lost Boys as a too little girl, I find it easy to fall hard for undead heroes.  I spent most of high school daydreaming about Louis and Lestat. 
While late on the bandwagon, I've quickly become a devoted fan of True Blood.  Now, I daydream about Bill Compton and his southern drawl.
In honour of the Season 2 premiere, I reached into my freezer and pulled out a leftover treat from my Baking By Hand Made Easy course; the same course where I made the white bread and the addictive vanilla pastry cream.
The real reason I took the course was to learn how to make a pie crust.  The elusive pie crust.  It has always seemed such a daunting task, and truth be told, still does.  But, under the watchful eye of an excellent instructor, I pulled it off and at the end of the night I had two cherry pies ready for the freezer. (My initial inspiration was Agent Cooper.)
There was never a more perfect time to bake my last blood red pie than for the return of Bill and the rest of the colourful crew from Louisiana.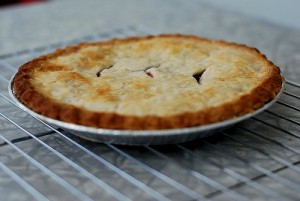 After Sugar served a perfect pappardelle main, we took plates of cherry pie and vanilla ice cream into the living room to await all the bad things that were sure to take place on television that night.  The episode did not disappoint—neither did the pie.
There are many pie crust recipes available, and every family seems to have a tried and true recipe.  So, instead of giving you another one, I'll pass along the pie tips that Sugar and I learned to help you on your way.  With the summer fruit season upon us, put any crust trepidation aside and go for it.
Pie-making Tips 
– When adding the liquid to your dough, blend just until the liquid "clears" or is absorbed.  The average time in class was about 7 seconds.
– Pies are best baked from frozen.
– Don't introduce new ingredients.  For example, if there are no eggs in your dough, do not use an egg wash on top.  Simply use water.
– Don't wash the edges of your crust with egg/milk/water.  Just the centre.  And sprinkle lightly with sugar…again, just the centre.
– Your pie is ready to be taken out of the oven when you jiggle the pie pan and the pie freely moves from the edge.
See you at Merlotte's!