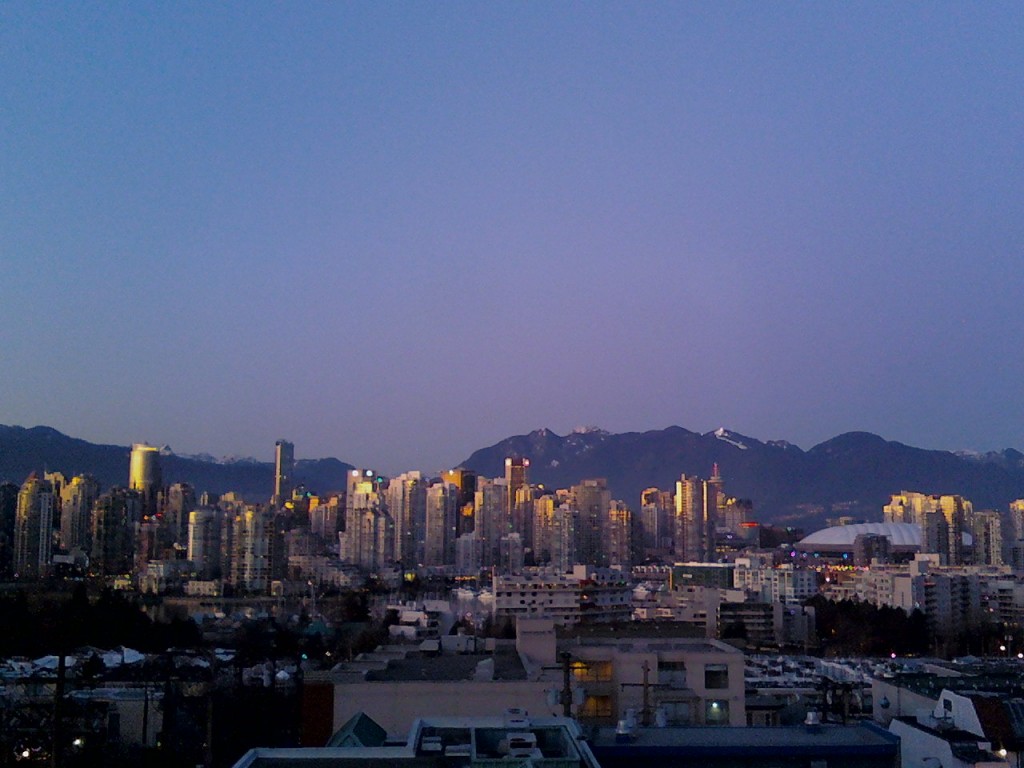 The list that details how we will pack our tummies while adventuring away from home can be as essential as the one that reminds us to pack our toothbrush. Here are some post-mortem thoughts on our travels that may be useful to you one day.
I'm not sure if I can be called a New Yorker yet, but having been here a week+ means that I'm slowly losing that feeling that I have another home to return to. Vancouver is previous, the Big Apple is next. I still can't wrap my brain around it. If this is in fact some crazy dream, I'm getting my fill of some fantastic NYC food so that if I'm pinched, I'll at least have some extra padding so it doesn't hurt as much. And as wonderful as it is to be and eat here, I cannot forget all that Vancouver offered me and can offer you if you have a chance to visit. Thus, I'll pass on my list of favourites in the form of a Packing List. As always with lists like these, my Vancouver eating was by no means comprehensive. I mean, I never ate Chinese food in Richmond, had a Japadog or got my fingers sticky with a Honey's doughnut. Shoot me. Most of these I've written about before, so I won't go into great detail. This is my list of familiar and much loved, and in time, I'm sure, much missed.
Although this list is not in any particular order, La Quercia will always be my favourite and first choice in Vancouver. The well-executed and comforting Italian menu, the impeccable and warm service, the relaxed ambiance… I was always happy when I stepped through the door. I highly recommend going the alla familiglia dining route when there, but I have also done à la carte with no complaints. I just think it's much more fun to let the chef decide. Every course then becomes a surprise. And while I usually don't like surprises, I crave the ones from La Quercia. Agnolotti di Guido, Spaghetti all'Amatriciana, Vitello Tonnato. Be still my heart. Reservations are usually quite hard to get, so if you need a quick fix, check out their daytime affair La Ghianda across the street. I'm very very sad to have left before being able to try the wine bar they are opening next door, L'Ufficio. Tell me all about it when you go.
(Cream and Sugar post 1, 2, 3, 4)
I always describe Nook as a French bistro that serves Italian food. It's a tight, loud place in the heart of the West End that you visit for a nice glass of wine and above average bowl of pasta or thin-crust pizza. Cuisine that's so overdone and so often overly boring. Not so at Nook. True to Italian cuisine, the preparation is kept simple, and the ingredients are always of the highest quality. Nook was the first place where I tried burrata cheese, and so I don't know how I will ever repay that kindness because I'm now burrata crazy. Being a true neighbourhood place, the staff make a great effort to be friendly and remember your patronage. A no-brainer choice on a Friday night when you don't want to cook.
Nicli was the first to bring true Napoletana-style pizza to Vancouver, and I think that they deserve the top spot after the wave of imitators that came after. Not to say that the others aren't good, but my vote will always go to Nicli. Yes, the waits can be long, and it's not the type of pizza you can take out, but that chewy, charred crust is hard to forget. I've always really liked the Bianca, but with this style, you can never go wrong with the classic Margherita. And $5/glass house wine? Yes, please.
(Cream and Sugar post)
So, I don't know if I ever told you, but I don't really like Chinese food. I think it's because I've never had good Chinese food. One bad dim sum outing over 10 years ago means I've never been back, and memories of pineapple chicken balls, day-glo orange sauce and over seasoned fried rice from mall food courts equals an acquired aversion for everything else. But then I finally tried Peaceful Restaurant. I knew that it was a favourite for foodies in the know and had been featured on Diners, Drive-ins and Dives, but it took me a long time to finally get my act together and make plans to eat there. The tragedy is that I only got to do it once. Dan Dan noodles, spicy green beans, beef roll and cumin beef sesame flatbread. These four dishes rocked my world and made a crack for Chinese food love to creep in. Again, tragedy that I'm no longer in Vancouver to blow it wide open. New York will have to do.
Because Bao Bei isn't "authentic" Chinese food, I never really viewed it through my "I don't like Chinese food" glasses, but it did get my feet wet. I knew it was a trendy place serving a menu inspired by places like Peaceful. And yes, the prices are much higher than "traditional" Chinese restaurants, and the dishes nowhere near the same. Complaining about these things is missing the point. Bao Bei isn't trying to be Peaceful. It's a gem of a restaurant that offers a unique experience. The food tastes good, the room looks amazing, the cocktails are fantastic, the service always good. I'll pay for that again and again.
Ugh. Thai food is so good, but it's so hard to find places that do it well and are worth the cost. I find it appalling that curries that amount to little more than coconut milk and sugar equal $18 a bowl. Red, yellow, green that all taste the same; pad thai clearly made with ketchup. So sad. Your frown gets turned upside down at Maenam. Palpable spice, fresh herbs, quality meats and fish, wine pairings, fancy cocktails—contemporary Thai food that gets you excited and makes you forget to order by colour.
(Cream and Sugar post)
If you only had one meal in Vancouver, it should be within the empire of Vikram Vij. While La Quercia holds a special place in my heart, Vij's and Rangoli are  in a class of their own. If you have the time and money, do it up big at Vij's. If you don't, go to Rangoli. They are different dining experiences, but the quality of food is the same: amazeballs. All the praise you've heard from everybody else is completely true.
Cafe Medina was my favourite place for brunch. The wait can be long on a weekend, but you get yourself a lavendar latte in a to-go cup and natter away with your friends. Nowhere near diner style with its inventive egg dishes, Liege waffles, and creative coffee concoctions, Medina is the place to go when you remembered to put make up on after you rolled out of bed late on a Sunday. Not stuffy, but certainly not greasy. The perfect place to start or end a date…!
You can't visit Vancouver without trying an izakaya, and local favourites are the Hapa and Guu chains. My first try was at Kingyo, and I felt it was never matched by others. That is, of course, until they opened up their sister restaurant Suika. Less corporate than Hapa and more charming than Guu, Kingyo and Suika offer fun tapas-style plates that do their job of being the perfect complement to an alcoholic bevvie. There's usually something for everyone and because of the small plate style, everyone can try what they want. The fish was always incredibly fresh and the deep fried items always worth their calories.
(Cream and Sugar post)
One of my farewell dinners was in the Hawksworth dining room, and it was truly a special night. Yes, it's a fancy and expensive restaurant where the server will place the napkin on your lap, but there is no pretense or attitude. I knew this going in because I'd had cocktails in the lounge a number of times and never was disappointed. The food, ambiance and service is worth all the recent hype. The beef short rib appetizer is definitely worth getting, as is the Hotel Georgia cocktail. Go all out and get an appetizer, entree and dessert. Portions are appropriate for splurging. (But, I think you should always eat a "well-rounded" meal!)
Aphrodite's is overpriced and a pain to get to in deep Kitsilano/Point Grey, but it has the best pie in the city. And I'm a big sucker for pie. Raspberry-rhubarb, apple-blackberry, pumpkin and chocolate-banana cream all made me weak at the knees. I stopped caring about the price per slice because they were too good. AND they make gluten-free pie. Aphrodite's is also a great place to go when you feel like something homey and healthy like soup and a salad. The food is organic so yeah, I guess, that's why it's not that easy on the wallet. Just make sure you have a piece of pie. The happy coma afterward always made me forget the bill.
Finch's is the epitome of charm and the place to go for simple, beautiful sandwiches. I say "beautiful" because they are always picture perfect; the fillings are placed just so, and the butcher paper they're served on is the perfect backdrop. I am a fan of the ones made with the blue brie. Their sandwiches are the type you can easily make at home, but always forget to, so a visit here with a paper and a cup of tea, sitting on what could be your grandmother's furniture, leaves a strong impression. The perfect place to go if you have a weekday off.
(Cream and Sugar post)
Sushi! As ubiquitous as coffee in Vancouver. You can't walk five feet in Vancouver without coming across a sushi place, and you are hard-pressed to find a Vancouverite who doesn't crave sushi all the time. At the ready and cheap don't mean awesome, though. I've always been shocked at the low standards Vancouverites will accept when it comes to sushi. You have to spend some time wading through a lot of crap to find the good stuff. I never got to go to Tojo's, but I did have delicious sushi that was extremely affordable. My favourite of what I did try was Shiro, with Ajisai being a close second.  I liked that it was always full of Japanese people, and I liked that only wild salmon was used at a price cheaper than a lot of places charge for farmed. P.S. Lunch Set G is a crazy-good deal if you are a fan of pork katsu-don.
A big thanks to all these restaurants for such fantastic food memories. And a big smooch to all my friends who shared these experiences with me. I feel like I might have used "unique experience" one too many times. But what can I say? They all ARE unique experiences. Go. Enjoy. Get full. Walk it all off along the sea wall.