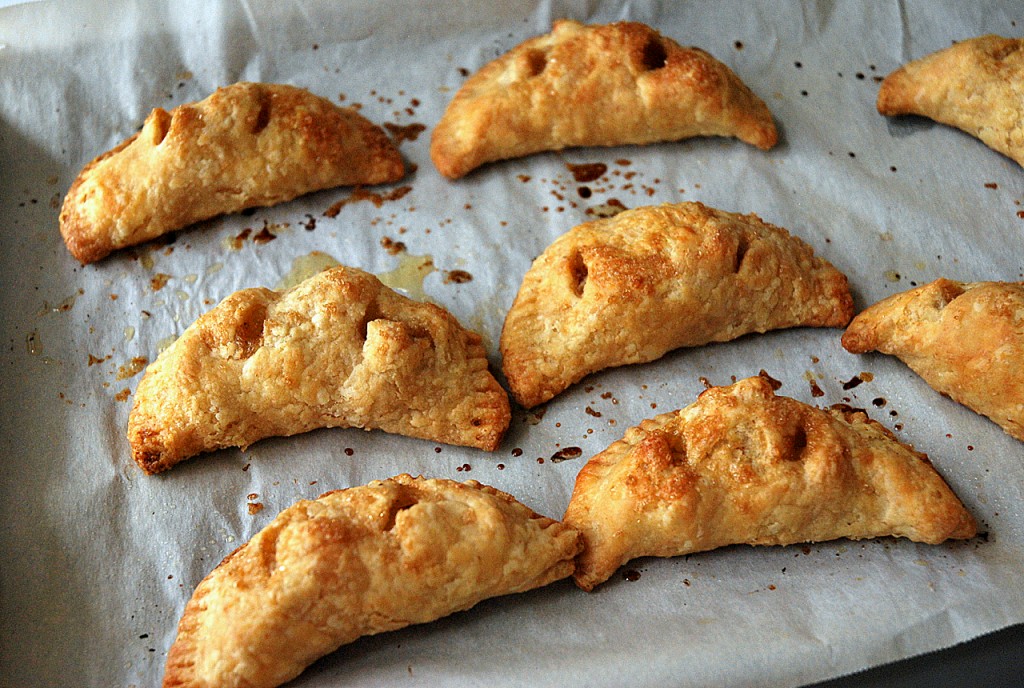 Sandy. What a bitch. She really did a number on my part of the world, and two weeks later, the effects are still being felt by many in and around New York City. She was my first hurricane, though, so I'll never forget her and how my world went topsy-turvy for a week. With requests to stay indoors and away from windows, I don't have any visual memories beyond the pictures that I saw the next day. Howling winds and swaying trees were my only drama, thankfully. Power and water never left. I became a lucky one.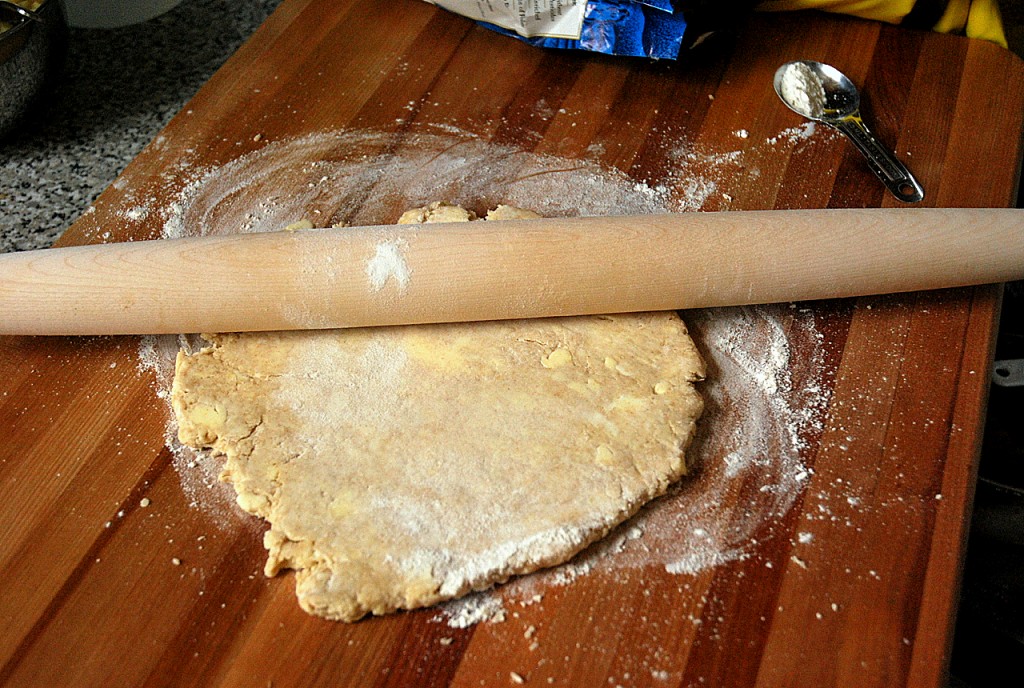 But before she hit, no one really knew what to expect, and so on the fateful Monday when transit was offline and most people were home from work, you quickly learned that cooking folk were cooking (up a storm, literally) before the lights were set to go out. Instagram was full of images of low-and-slow flesh, long-simmered stews, and all sorts of baked creations. Because I knew I had the time, I gave myself the task of practicing pie/pastry dough.  Yes, I have made a pie before, but it was under the watch of a master. The only other time I made a pie crust after that was an utter failure. But considering how much I love pie, I felt I must try again.  At least try with little handpies to get a feel of good dough. And if this attempt was also an utter failure, I'm sure there would have been a way for me to blame Sandy.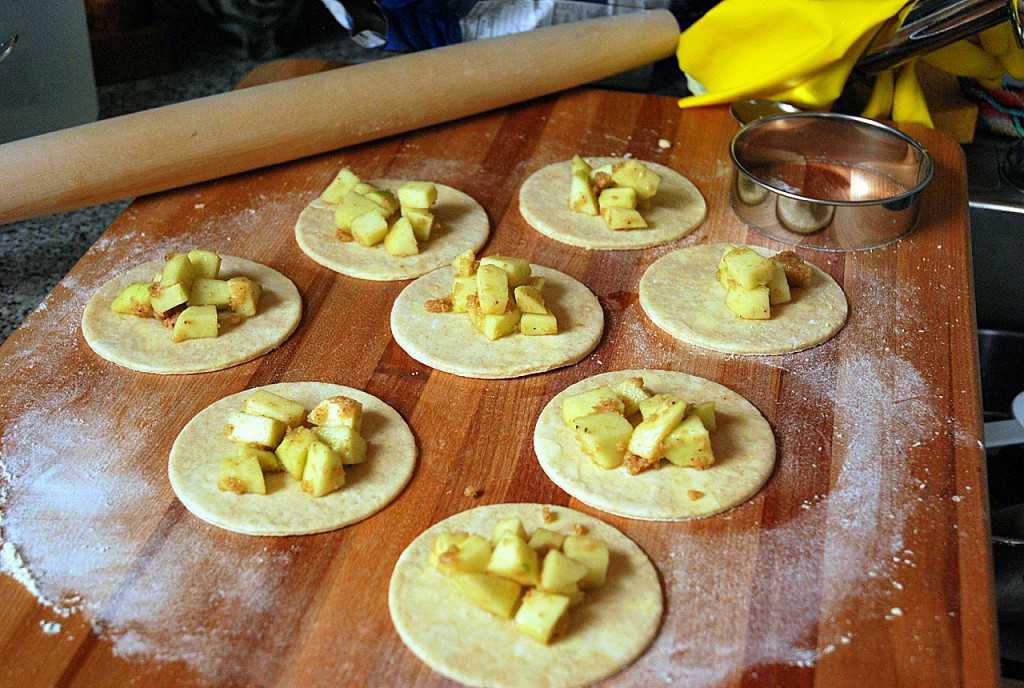 Success. Success! I rolled out dough and could see the little specks of butter. I baked pies and those specks of butter created pockets that created flakes. FLAKES. There was not a bite of leaden crust to be had. All bites caused major flake trauma on my shirt, the plate, and the floor.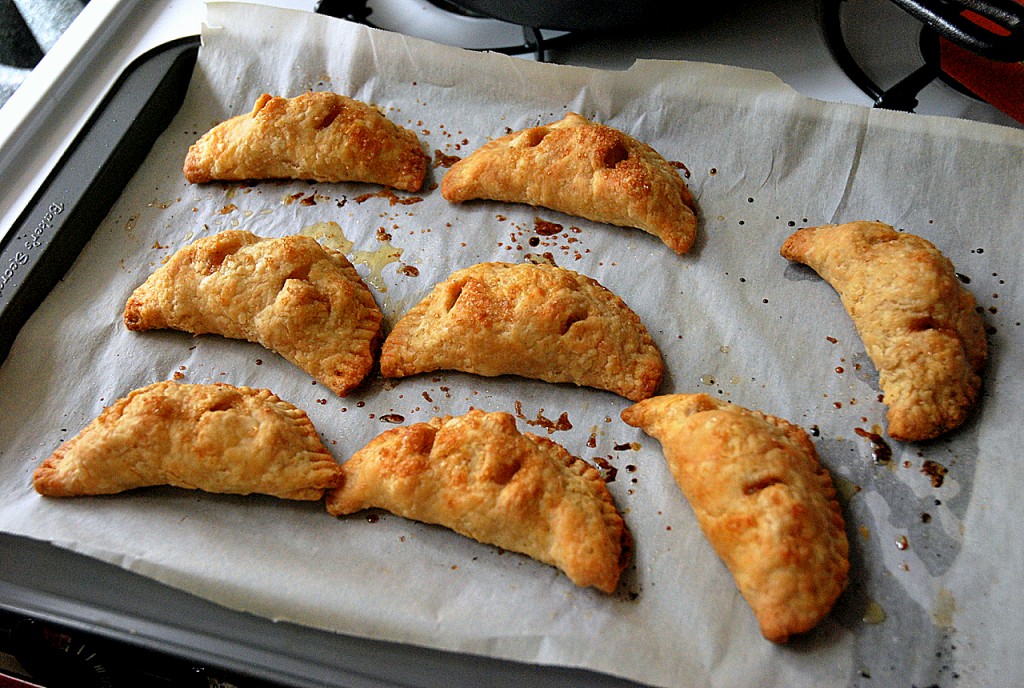 I'm ready for a real pie now. Take that, Sandy.
Apple Hand Pies
Adapted from The Fauxmartha
I didn't really make any substantial changes to this great recipe from The Fauxmartha. I used all Granny Smith and added two tablespoons of brown butter to the apple mixture.  Because I don't see anything wrong with trying to get brown butter into as much as possible. I also just substituted my handy pumpkin pie spice for all the individual ones. And no egg wash, just a water wash for the sugar; I was taught that you don't add anything on top of the dough that didn't go into the dough. (My crust is extra golden because I had to use a little bit of white whole wheat flour, which was out of necessity, not choice.)
Her pie crust recipe worked like a dream for me. I watched the video at least five times, however, and bought all the equipment I didn't have. Like everyone says, KEEP EVERYTHING COLD. If the crust gets warm, put it back in the fridge. Cold cold cold.  I put the shaggy dough in the fridge and thought it would be a mess when I started to roll it. I forgot that it's all butter. A few pushes of the rolling pin and the butter softens. Fast. Hence, cold cold cold.
If I can do it, you can do it.